We are asked, "Do you have any toys or educational tools I can use to teach my kids about helping out around the house, or more specifically to remind them to clean up their rooms?"
If we could invent a product that would teach kids how to do either of those tasks, we would quickly become the most popular toy company on the planet. And although no product exists like the one you are looking for, we are happy to offer some advice to you on this issue, and it involves communication.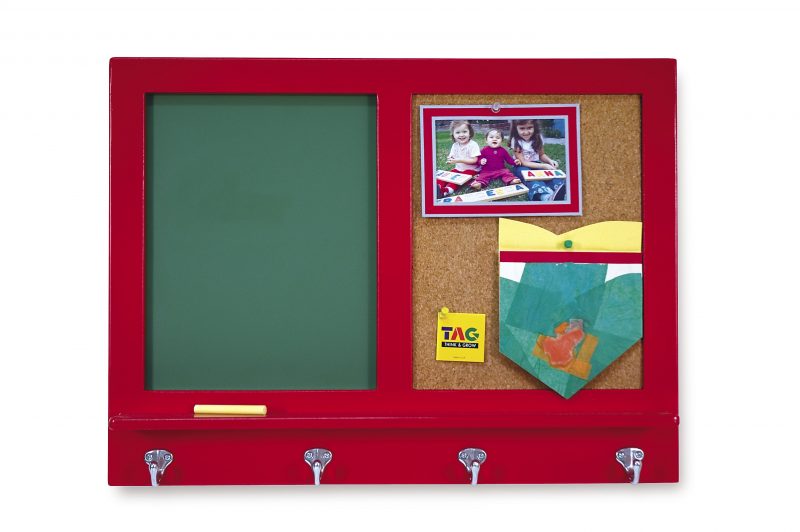 The TAG Toys All In One Message Center is a Communications Center for the Family
Believe it or not most kids don't actually connect the big request of 'clean up your room' with the several individual jobs that are a part of the larger task. The first strategy a parent can use to help get the project accomplished is to break that big job down into much smaller pieces. Try asking for a simple individual part like; can you put your clothes into the hamper, can you bring me your garbage can, or can you pick your toys up from the floor and put them on the shelf?  Individual requests like these are easier to understand and easier to complete by the child.
Next, the presentation of the request to the child is also a Big Deal to Kids…, even though it's importance is often overlooked by parents.  Saying to a child, "We are going to clean your room and while you pick up toys from the floor, I will make the bed," means both of you are going to be helping each other. Saying to a child, "I want us to arrange your toys on the shelf together" doesn't sound like work, but ultimately it gets the job of re-shelving the toys accomplished.
When families work together and kids are asked for help, it presents an opportunity for the parent to teach and watch over the development of new skills, and this foster an appreciation for the child on how to accomplish any given task. Parents who make simple household chores into a family project that everyone helps to accomplish will have more success, than those who simply tell a child to go work on some strange chore in isolation.
TAG Toys is a family run company making eco-friendly, wooden Toys in the USA. Whether you are shopping for girls or boys TAG Toys has great gifts for youngsters at Christmas, Hanukkah, Kwanzaa and Birthdays. Please visit www.TAGToys.com
Get involved by asking your question to TAG Toys on Facebook.