We are asked, "I have no idea what to buy for my one year old nephew, can you please recommend a good, reasonably priced gift?"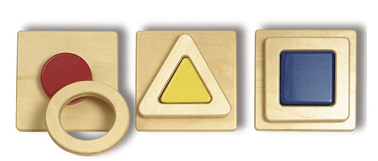 Geo Form Boards
The one-year old's we know best tell us that the toys they like the most are the most simple, straightforward and brightly colored toys.  From simple building blocks, to basic animal shape puzzles and simple geometric shapes most one-year olds are quick to show appreciation for almost any colorful toy you decide to give them as a gift.
A simple toy like the TAG Toys Geo Form Boards make a great stocking stuffer or a good basic gift for any one-year old boy or girl.  This toy helps very young kids develop physical motor skills and introduces the concept of matching and fitting shapes together.
Other simple puzzles like Animal Shape Puzzles or the TAG Toys First Building Blocks also make great gifts for one-year olds.
TAG Toys is an environmentally friendly family-run business making wood Toys in the USA. If you are looking for a gift for a girl or a boy TAG Toys has great toys for Christmas, Hanukkah, Kwanzaa and Birthdays. Please visit www.TAGToys.com
Ask a question to TAG Toys on Facebook.