We are told, and then asked,  "You have too many toys, can you tell me what would be a great gift for a four-year old?"
Parents who are looking to really give their youngsters a head start for school can start helping them learn about and appreciate numbers as early as possible. The TAG Toys Math Skills Puzzle is a great tool that helps children make the transition over from simple shapes and color puzzles into something that will benefit them for years to come.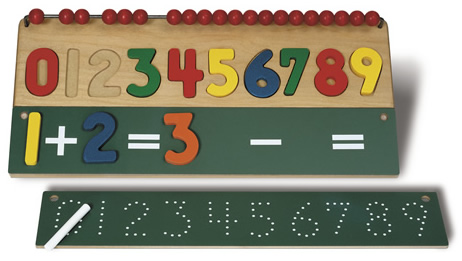 Math Skills Puzzle from TAG Toys
The TAG Toys Math Skills Number Puzzle is a math readiness skill combination learning center with a number puzzle, 20 counting beads, a reversible chalkboard, and a connect-the-dot stencil that helps introduce children to  real numbers.
This popular educational puzzle helps children learn to recognize, name and write numbers, and parents can use this to help their child learn to count in sequence and practice solving simple addition and subtraction problems. The TAG Toys Math Skills Number Puzzle is available at specialty children's toy stores and boutiques nationwide as well as at TAGToys.com
TAG Toys is a family company making hand crafted Toys in the USA such as baby blocks, educational toys for infants, and sorting toys for kids. Please visit www.TAGToys.com