A reporter asks, "What are the all time Best Toys for Kindergarteners?"
For nearly thirty years, TAG Toys has been making educational gifts in the USA, for kids of all ages, and we are happy to share three of our all-time best selling toys from our collection with you. We hope you will find something interesting from our collection to include in your Gift Guide for Kindergarteners.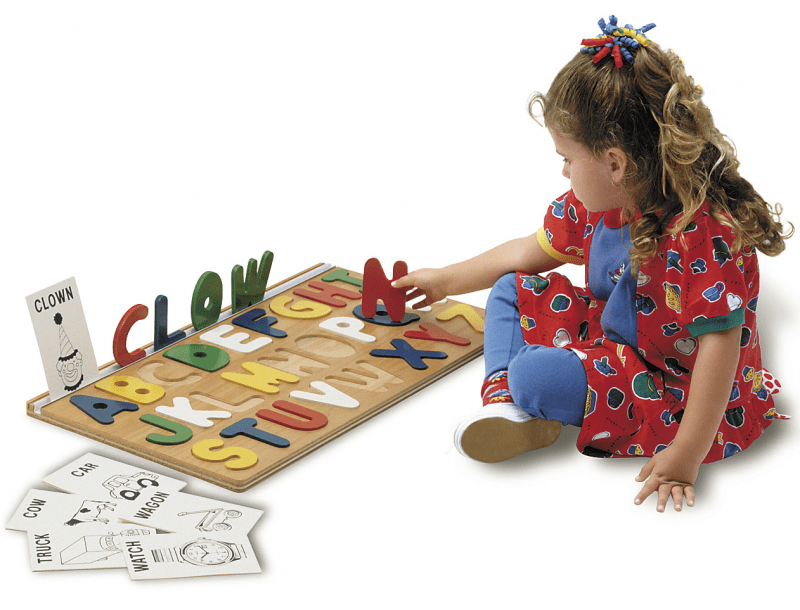 I Can Spell Alphabet Puzzle from TAG Toys
Kindergarten Alphabet Puzzle: The TAG Toys, I Can Spell! Alphabet Puzzle is an All-American Classic puzzle that helps youngsters identify and connect letters into words. The puzzle activity center introduces children to spelling simple words and presents the alphabetical order of letters in a fun and colorful display. A great educational toy for any child.
Kindergarten Math Skills Puzzle: The TAG Toys Math Skills Number Puzzle is a math skills learning center with a number puzzle, 20 counting beads, reversible chalkboard/writing board, and a connect-a-dot stencil that helps youngsters gain confidence with numbers.  This popular puzzle helps children learn to recognize, name and write numbers, count in sequence and practice solving simple addition and subtraction problems.
Personal Puzzles for Kindergartners: Put a smile on the face of a youngster who is learning to read and spell with a Personalized Name Puzzle from TAG Toys. This full size colorful name puzzle helps youngsters learn how to read and spell their name and becomes a lifelong keepsake that appreciates in value as a child gets older. Name puzzles are available in first name, or first and last name combinations.
TAG Toys is an environmentally friendly, family business that proudly hand crafts hundreds of educational toys in the USA, including puzzles for toddlers and toys for kindergarteners. Please visit http://www.TAGToys.com
Join the Conversation, ask TAG Toys a question on Facebook.