A reporter writes, "We are doing a lifestyle show and are looking for gift ideas that help keep kids and families safe and secure. Do you have any toys that help teach children about personal safety or home security?"
We have several toys that are designed to help teach youngsters about safety through independent play, and also can be used as a tool by parents to kick-start an important ongoing discussion about personal security and home safety.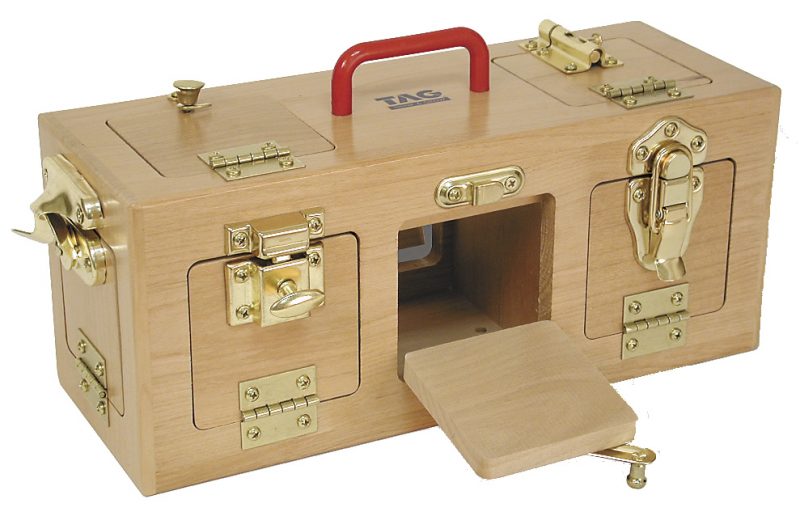 Lock Box Memory Game from TAG Toys
TAG Toys Lock Box Memory Game: This high-quality hand-crafted solid hardwood lock box has three separate compartments, and ten doors and latches. Kids can put trinkets into each of the separate compartments and look for the items  through the different doors. The lock box has a sturdy handle and entertains children for long periods of time.
TAG Toys Lock and Latch Activity Board: This free standing, lock and latch variety board has many common everyday types of latches, locks and switches, and is used to help fine-tune children's motor skills and develop hand-eye coordination. The activity board helps kids develop muscle strength and finger dexterity, and parents can use it for discussions about everything from turning off lights, to locking and unlocking doors.
TAG Toys is a family business making environmentally friendly, hand-crafted wood Toys in the USA. Whether you are shopping for girls or boys TAG Toys has perfect gifts for Christmas, Hanukkah, Kwanzaa and Birthdays for kids of all ages. Please visit www.TAGToys.com
Get involved today and ask us a question on Facebook.