A reporter asks, "What toys from your collection are the best in helping to develop the brain and cognitive skills of very young children?"
The development of a baby's brain is a complex, ongoing experience, and there is not a single toy that can accomplish the job on its own.  To sufficiently stimulate the brain of an infant a variety of incoming experiences and multi sensory (smell/taste), visual, verbal/auditory, and tactile (physical) stimulus need to be continuously provided.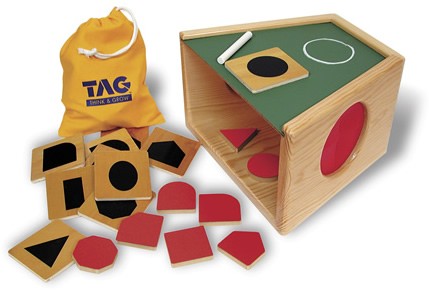 Mystery Box from TAG Toys Helps Sharpen Minds and Perception Skills of Youngsters
By the time children are about one and one-half years old, personal exploration to objects (like toys) in their environment becomes extremely important.  Mental images imprinted in their memory through tactile sensory experiences become much more efficient than through the visual or auditory modes, and toys like the TAG Toys Mystery Box fosters this stage of cognitive development.
Toys like the Mystery Box provide for a wide range of tactile experiences from basic shape recognition to fine size and shape discrimination. This learning center comes with 10 solid wood shapes and 10 matching shape tiles, and chalk for drawing exercises that develop fundamental memory skills, helps sharpen mental focus and heightens attention to details.
TAG Toys is a family owned business making environmentally friendly, hand-crafted wooden Toys in the USA. Whether you are shopping for girls or boys TAG Toys has gifts for Christmas, Hanukkah, Kwanzaa and Birthdays for kids of all ages. Please visit www.TAGToys.com
Find TAG Toys on Facebook.